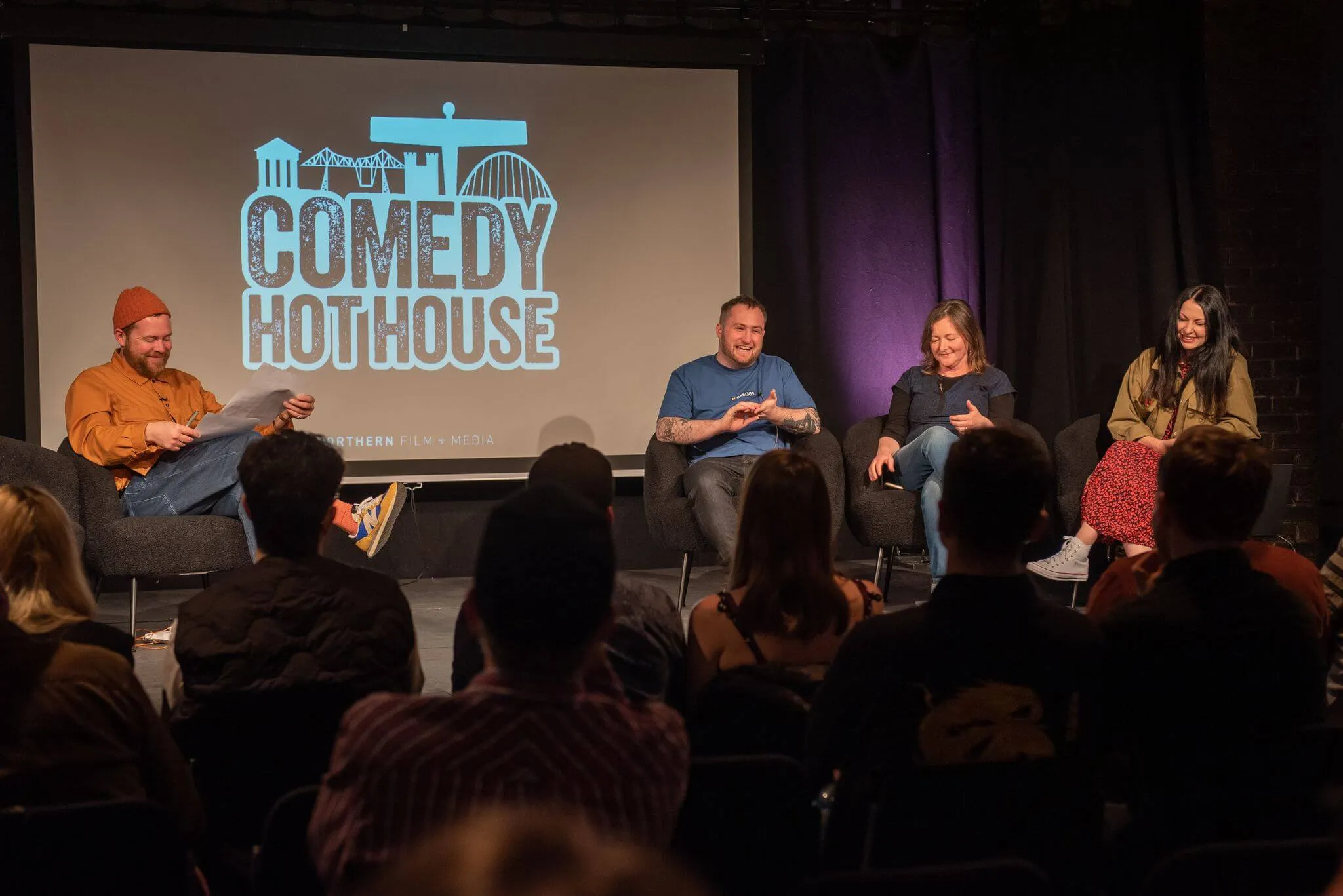 Laughter
Tears
&Cheers
The award winning North East Screen Comedy Hot House is a first-of-its kind comedy cooperative nurturing regional talent, both on and off screen, co-founded by scripted comedy executive Emma Lawson and our chief executive Alison Gwynn.
We champion, connect and develop the region's best comedy talent by creating outstanding opportunities with industry partners.
There has never been a better time to be in the North East if you're someone who is wishing to progress in TV comedy. We hope you've seen by the BBC City of Comedy and the BBC Comedy Festival held in Newcastle in May that the BBC are committed to supporting North East Screen and our Hot House team to support the next wave of comedy talent and regional production companies on their journey to make broadcast-ready productions. We want to bring the comedy community in the North East together, to encourage creativity, partnership working and sharing of knowledge and networks.
Newcastle, the first BBC City of Comedy, hosted the BBC's first Comedy Festival for indie producers, anyone with a new career in TV and comedy, and people looking to break into or advance their career in the industry.
A series of events took place across three days to explore, reflect on and celebrate comedy in the UK.
Some of the biggest comedy names attended including Charlie Brooker, Greg Davies, Jamie Demetriou, Megan Ganz, Gbemisola Ikumelo, Romesh Ranganathan, Stephen Merchant, Tim Renkow, Kat Sadler, Adjani Salmon, and Holly Walsh – plus the casts of BBC hits – Ghosts and The Outlaws.
Talent-led talks, panels, screenings, a short film night, live comedy, and the premier of The Outlaws series 2 all took place at the Northern Stage in Newcastle.
BBC Director of Comedy, Jon Petrie, opened the festival, setting out his vision for BBC Comedy and highlighting commissioning opportunities to the comedy production community.
Regional Partnership Scheme
BBC Comedy also announced that they will be piloting a brand-new Regional Partnership Scheme, co-funded with North East Screen, pairing a North East based emerging indie with a leading BBC Comedy supplier.
The aim of the scheme is to promote regional partnerships, aid portrayal and support the growth of indigenous scripted comedy supplies in an underserved and underrepresented region.
The partnership will see the companies co-develop a slate of original ideas over an initial 6-month period, to help strengthen and enhance the local talent and project development on the ground, while creating new connections and out of London opportunities.
Sea & Sky Pictures have been announced as the partner to Hat Trick. Read the full details here.
The North East Regional Partnership Scheme is part of the BBC's commitment to making its biggest investment in the North East of England for decades as part of a new partnership with the region.
The BBC last year announced it will spend at least £25m over the next five years right across the North East to fund network TV production, talent development and support for the creative sector.
BBC Opportunities
BBC Comedy have opened up new pipelines for production companies to develop scripted comedy and we would love North East talent to get some! BBC Commissioning briefs and current opportunities can be found here.
Submit all pitches here.
Find out about their characters, narrative shorts and podcasts in October when we will be hosting a panel to find out more about what the BBC are looking for and how Hot House can support you to pull together a pitch. Keep an eye on our socials and sign up to our mailing list by emailing us to hear more.
The BBC's Small Indie Fund is now open for applications. The closing date is 24th October 2022. The Fund aims to back talented small independent production companies with a special focus on diverse-led companies and those based in the Nations and English regions.  Check out full details here.
Meet our North East Comedy Hot House Team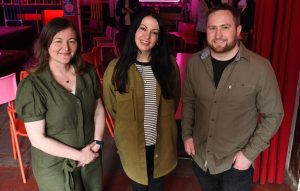 Emma Lawson
Scripted Comedy Executive & Co Founder of North East Comedy Hot House
Originating from the County Durham, Emma worked her way through the ranks on many hours of scripted comedy with major indies including Objective (Peep Show, Star Stories), Fremantle (Count Arthur Strong) and Roughcut TV, where she stayed for 10 years working with Ash Atalla on projects including five series of Cuckoo (BBC Three) and People Just Do Nothing (BBC Three). Emma went on to produce Trying, the first scripted comedy for Apple TV+, which led to an in-house commissioning role working under Jay Hunt. Since leaving Apple she has originated a new comedy series for Sky One, worked as a development executive for Universal Music's global scripted arm, and set up regional development initiative North East Comedy Hot House, before joining the BBC Comedy commissioning team in January 2022.
Lisa Laws
Head of Talent and Professional Development
Lisa began working as an assistant film editor and script supervisor on Channel 4 shorts and features before going on to Assitant Director on HETV and features including Elizabeth, Eugine Onegan, The Four Feathers, Troy and The One and Only. Lisa joined the regional development agency as Talent and Professional Development Manager, leaving to produce the Northern Lights Film Festival, celebrating mischief makers and providing a platform and commissions for award winning international talent, working across genres and art forms, to have fun together.
Lisa now oversees the development and delivery of North East Comedy Hot House, working alongside industry partners to champion and provide opportunities for northern comedic talent that aims to reach and entertain global audiences with outstanding content.
Mark Kenny
Comedy Talent Development Coordinator
Mark is our coordinator and is a logic-minded guy who can make things happen. He loves, lives and breathes comedy and can be found at stand-up gigs, producing sketches and developing comedy ideas. Mark's personal taste in comedy leans to the cheeky side – the 11pm or later slot – the likes of Monty Python; Aunty Donna; Airplane and The Naked Gun; The Eric Andre Show and The Mighty Boosh.
Mark genuinely cares about championing and growing comedy in the region and likes to have a laugh along the way. Please get in touch with Mark and let him know what you are up to and what you need. He's always happy to chat.
If you have any queries or would like to get in touch with the team email hothouse@northeastscreen.org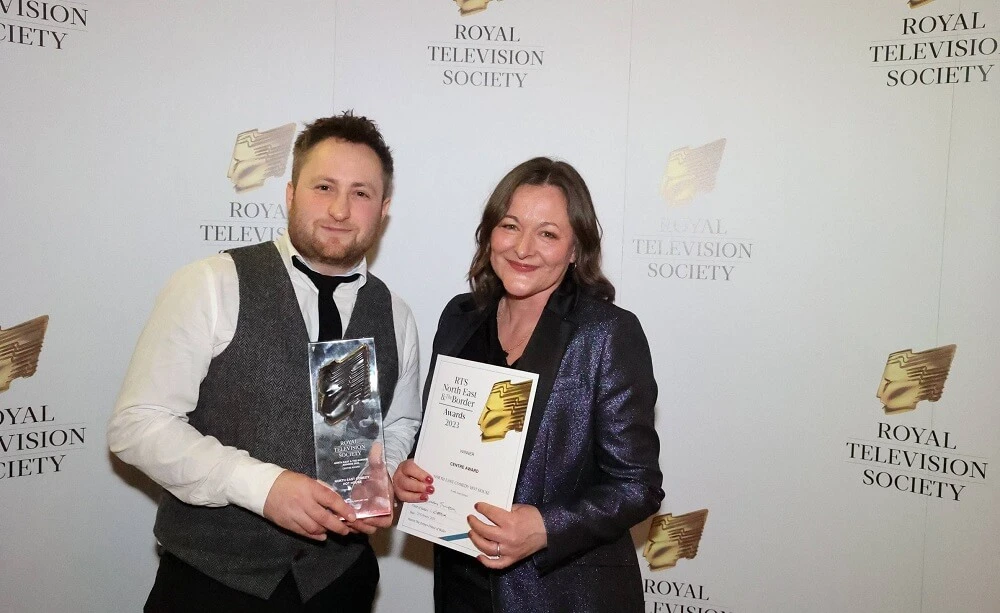 26th February 2023
NE Screen Comedy Hot House wins regional RTS Centre Award 2023
North East Screen wins big at the North East and Borders Royal Television Society Awards with their Comedy Hot House winning the prestigious Centre Award for outstanding contribution to the industry. The award, which recognises an individual, team or organisation's work either in front of the camera or behind the scenes, was awarded for the […]
Learn more